1. Introduction
It has been observed that when an English word ending in a stop is adapted to Korean, Korean speakers often insert a vowel after the final stop (e.g., rope→[lophɨ], knit→[nithɨ], peak→[pikhɨ]). This vowel insertion is interesting since native Korean words may end in stops (e.g., /pɑp/→[pɑp˺] 'meal', /kot/→[kot˺] 'soon', /mok/→[mok˺] 'neck'). Thus, the original foreign forms ending in a stop would be pronounceable in Korean. This vowel insertion has been referred to as unnecessary repair by Peperkamp (2005), where a foreign structure is changed even when the original structure would have been legal in the recipient language (Golston & Yang, 2001; Kang, 2003; Peperkamp, 2005).
Previous studies have focused mainly on vowel insertion patterns per se in which some words always take an epenthetic vowel (e.g., rope→[lophɨ]), some never do (e.g., group→[kɨrup˺]), and some vary between these two options (e.g., tape→[thɛip˺]~[thɛiphɨ]). Rhee & Choi (2001) conducted a statistical analysis on the frequency of variable vowel epenthesis and Jun (2002) reported on a large-scale experiment involving 260 college students; however, both of these studies simply provided a list of factors affecting the likelihood of vowel insertion while the former relied on standardized written loanword data. Boersma & Hamann (2009) accounted for the phenomenon in terms of an Optimality-theoretic grammar model. Kwon (2017) deals with inter-speaker variation to see if Korean listeners' experience with English affects online adaptation, which is not directly connected to the main interest of the present study. Importantly, none of these studies have provided a phonetic analysis of Korean speakers' productions. Thus, the contribution of this paper is that it pays close attention to acoustic details of the recipient language, finding an answer to unnecessary repair, which is one of puzzling emergent patterns identified in the literature on loanword phonology.
Among earlier studies on unnecessary adaptations, Kang (2003) claims that this seemingly unmotivated vowel epenthesis is motivated by perceptual similarity between Korean and English forms. Kang discusses several perceptual factors promoting vowel epenthesis following English word-final postvocalic stops. One of those factors is release of final stops. Korean word-final stops are never released (Sohn, 1999), whereas word-final stops in English are variably released (Byrd, 1992; Crystal & House, 1988). Kang argues that vowel insertion may make the Korean output form perceptually similar to an English final released stop, noting that stop release in English and an epenthetic vowel in Korean are phonetically similar.
Kang (2003) describes vowel insertion pattern in this position based on a survey of loanword list compiled by the National Academy of the Korean Language (1991). Her loanword list contained loanwords from English source words that ended in postvocalic stops. According to her report, the overall frequency of final vowel insertion was 50.3%, that of having no inserted vowel was 43.6%, and that of variable insertion was 6% (Kang, 2003: 229). However, this result might not reflect the recent tendency of loanwords borrowed from English since her list was based on loanwords gathered from books published in 1990.
The current study has built a new corpus consisting of material complied in more recent publications of the National Academy of the Korean Language (2001; 2002). The corpus data is based on 540 Korean loanwords borrowed from English whose source words end in a stop. Out of 540 English words with a final stop, 264 were consistently adapted with final vowel insertion and 214 were consistently adapted without final vowel insertion, while 62 were variably adapted both with and without vowel insertion. That is, the frequency of vowel insertion patterns in the corpus is 49% for vowel insertion, 40% for no vowel insertion, and 11% for optional vowel insertion. This finding shows that vowel insertion is more frequent than lack of insertion, even though final stops are permissible codas in Korean.
The higher frequency of final vowel insertion in Korean loanwords borrowed from English might be attributed to the fact that the corpus focus on English words that have already entered the Korean lexicon. In order to investigate whether Korean speakers really insert a vowel following the English final stop, this study conducted an online production task where Korean participants listened to English nonce words ending in a stop and repeated what they heard. As a control group, English speakers were recruited from the same task. The repetition task was essentially an L2 production experiment. This task was actually about both perception and production since participants first heard and then reproduced what they heard. If release causes them to hear a final vowel, they should produce a final vowel, and an illusory vowel is expected to be reflected in their production. This laboratory adaptation study clearly has an advantage over a production method like a reading task in that the repetition experiment taps into two different levels of perception and production.
Following the completion of the repetition task, to determine whether Korean speakers inserted a vowel after final stops, their productions were analyzed in terms of the duration of noise intervals following the closure of final stops. This experiment can also serve to compare the patterns in integrated loanwords of the corpus to Korean speakers' online production of English nonce words that were completely new to Korean participants.
3. Discussion
The fact that more than 95% of Korean participants' productions were perceived to include no epenthetic vowel was not consistent with the loanword data, where 49% of words showed vowel insertion. The result of the production task was also inconsistent with the prediction of the perceptual similarity approach. This view predicted that because Korean speakers correctly perceive an English final released stop as a final consonant, they would insert a vowel to make the English sound more similar to the Korean sound.
Gender
Participant
CV
C
Total
Mean V length (ms)
Female
S1
0
23
23
0
S2
0
27
27
0
S3
0
27
27
0
S4
0
23
23
0
S5
3
21
24
101
Female total
3
121
124
101
Male
S6
2
17
19
86
S7
0
22
22
0
S8
2
22
24
70
S9
1
22
23
109
S10
0
19
19
0
Male total
5
102
107
84
Download Excel Table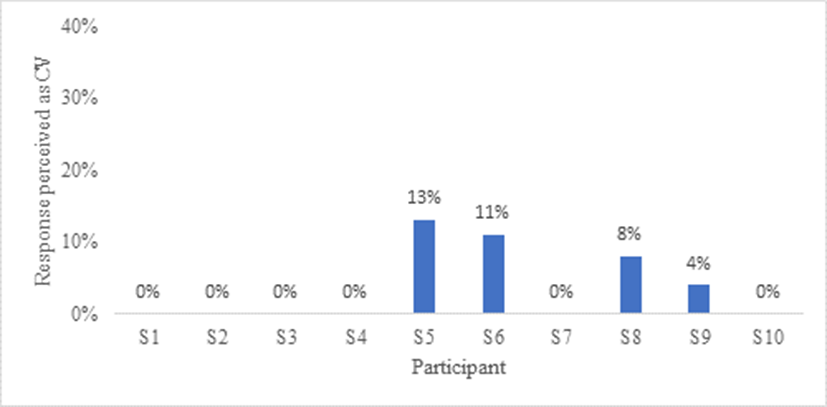 Download Original Figure
The difference in the results between the loanword analysis and the production task might have arisen from the fact that the corpus study was based on written integrated loanwords. Korean loans written in books tend to observe the guidelines of the National Academy of the Korean Language, where vowel insertion is required when certain conditions are satisfied. For example, the guidelines indicate that a word-final voiced stop shall be written with [ɨ] and that a word-final voiceless stop after a lax vowel shall be written as a coda while one after a tense vowel shall be followed by [ɨ] (http://www.korean.go.kr/). However, in the production experiment, Korean participants were asked to immediately repeat a series of English nonce words. The results from the online adaptation would suggest that speakers were trying to imitate the release of the English final stop in an exaggerated manner by the longer noise intervals after the stop closure. The longer noise interval did not turn out to be identified as an epenthetic vowel by English listeners. That is, the productions of Korean participants as perceived by English speakers almost never included final vowel insertion. Therefore, the results of the production task were not predicted by the perceptual similarity approach.
There are other possible explanations for this unexpected finding. First, it is possible that the nature of the task was simply too different from actual loan adaptation, where listeners might have more competing demands on their attention. Here in the production task, participants heard and repeated a single word, whereas in loanword adaptation listeners might hear different words in different contexts while they are doing real processing and therefore be more likely to misperceive. It is also possible that Korean speakers did intend to produce a final vowel, but that English listeners failed to hear this vowel because Korean high vowels tend to be devoiced after aspirated stops (Jun & Beckman, 1994). The waveform analysis of participants' productions showed that some of their final vowels really tended to be devoiced following released stops, which suggests that English listeners might have perceived the Korean devoiced vowel as consonant release.
The latter possibility will be pursued in future research by examining the phonetic properties of epenthetic vowels in Korean and comparing them with those of lexical vowels. If it turns out that epenthetic vowels are acoustically different from lexical vowels and that they are phonetically close to devoiced vowels, that would account for the finding that English transcribers perceived Koreans' strong noise intervals as stop release. Moreover, the mismatch between the loanword patterns and the production experiment raises the question of what actually happens in perception of English forms by Korean speakers. As the perceptual similarity approach, Korean listeners might accurately perceive an English final released stop as a final consonant. On the other hand, they might incorrectly perceive it as a stop followed by a vowel (misperception approach, Boersma & Hamann, 2009; Broselow, 2009; de Jong & Park, 2012; Dupoux et al., 1999; Kwon, 2017; Silverman, 1992; among others). I will conduct a perception experiment in future study to carry on a discussion about the two different approaches and to investigate the perception of L2 speakers.